June left Nyagasenyi Natural Remnant Forest Boundary Demarcated
Nyagasenyi is one of the few natural remnants forest of its type remaining in Rwanda. Located in Eastern Province, Nyagasenyi forest and its catchment cover about 2,800ha and falls under Kirehe District, Gahara Sector. Even though it has faced anthropogenic threats, still a forest harbour a number of fauna and flora.
Since October 2021 the Albertine Rift Conservation Society (ARCOS), in partnership with Rwanda Forestry Authority (RFA) & Kirehe District with funding from the Audemars-Watkins Foundation, this Nyagasenyi natural forest and its landscape has been under restoration through the project titled "Nyagasenyi Remnant Forest Landscape Restoration for Improved Livelihoods and Resilience to Climate Change."
The third date of June in 2022, this forest saw an important date marked by its official boundary demarcation. This event was attended by all partners of the project. This event was graced by the attendance of Dr Sam Kanyamibwa, ARCOS CEO; Mr. Gaspard Munyaneza, representing the Director General of the Rwanda Forest Authority (RFA) and Kalinda M. Vital representing the district.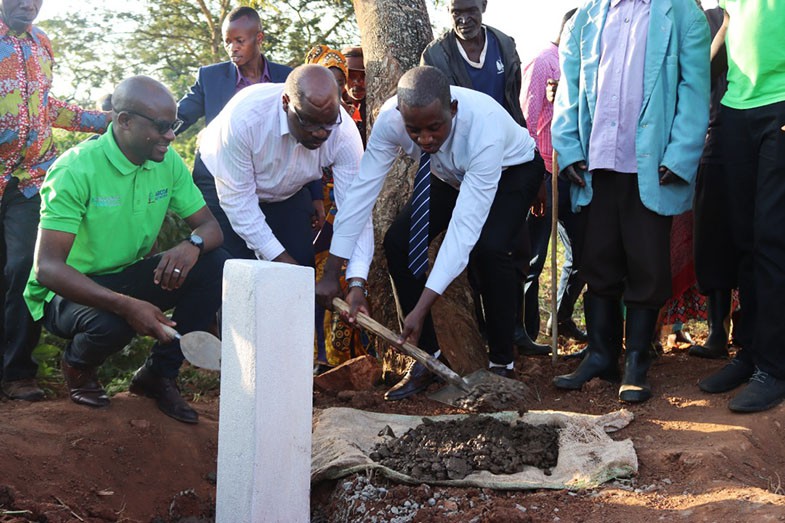 Dr Sam Kanyamibwa, Gaspard Munyaneza and Bertrand Uwimana installing the first boundary marker stone.
Bringing to the fore what has been achieved, Mr. Bertrand Uwimana, project manager, mentioned that the forest is being restored via bothnatural and assisted regeneration approach.
Into the bargain, a total of 739 households (3196 peoples) from six focal villages were engaged in the landscape restoration, and grouped into twenty-four (24) community groups known as Friends of Nature Associations (FNAs). In addition, two community managed tree nurseries were established with capacity to produce 72000 seedling (Agroforestry, woodlot, fruit & indigenous) each per year. Moreover, 48 representatives from community groups were trained as trainers through the ARCOS' BEST Approach and the follow-up training was organized for the members of FNAs.